It was 7am when my phone rang. Instead of an alarm, it was my recruiter disturbing me from a pleasant dream. It was too early for a phone call or to be caught off guard, so I did not answer. I went to take a shower and get ready for the day. On my way to work, I listened to the voice mail she had left.
"Oh my God, are you OK!"
In the company's directory, there are several people that shared the same first and last name as me. I was OK. So she must have dialed the wrong phone number. I assumed somewhere, an employee named Ibrahim Diallo, was in trouble. But not me.
At work, when I scanned my key card at the turnstile, it flashed red, made a grumpy beep, and refused to disengage. I tried it a few more times, it kept flashing red and grumping. I threw a glance at Jose and made sure to make eye contact. He shrugged. A moment later he laughed then pressed a button under his desk and the turnstile turned open. Jose was one of the security guards in the LA-1 skyscraper I worked in.
I immediately called the recruiter back and it went something like this:
Recruiter: Did you have a talk with your manager yesterday?
Me: Yes I did.
R: Is everything OK?
M: Yes, everything is OK. Is there a problem?
R: I'm not sure, I received an email about you this morning... I guess it must have been a mistake. Did they let you in the building?
M: I don't understand. Yes, they let me in the building. What is happening?
R: I think there is a confusion. I'll ask my manager then I will call you back.
Jose has seen me come to work everyday through those doors for more than half a year. I believe this was his idea of a joke. He must have disabled the turnstile right before I was to scan my key card. I went straight to my manager to see "If everything was OK."
Me: Hi!
Sam (manager): Hi Ibrahim, how are you?
Me: I'm fine. I received a call from my recruiter. Did you want to talk to me?
Sam: No, I don't think so. Did she tell you what the problem was?
Me: No. She said she will call me back. I'll wait for her call, I guess.
I did not receive a call from her. Nothing interesting happened on that day, just good Ol' work routine.
The next day I drove my car to the parking structure and heard the same grumpy beep when I scanned my card. There was a long line of cars forming behind me, the drivers were getting impatient and some had started to honk at me already. It's a long one way corridor where getting out of the lane was not an option. I silently panicked. A security guard appeared, gave me a look, shook his head disappointed, then used his own card to let me in. I embarrassingly drove all the way to the 8th floor.
Inside the building, my card failed again, and the loud grumpy beep made sure everyone was aware of it. Jose let me in once more.
It wasn't the first time my key card failed, I assumed it was time to replace it. As soon as I got to my floor, I went to see my manager to let her know. She promised to order me a new one right away. In the meanwhile, every morning the security guard would have to print a temporary badge for me that would expire by 7pm. Small price to pay.
I went to my desk and worked for a few hours on hardware. When I was done, I logged into my Windows machine to mark my Jira ticket as completed, that's when I noticed that I had been logged out of Jira. I tried my jira credentials multiple times and they did not work.
On my floor, there was a poster at the very entrance. An employee made a New Yorker style comic with two employees talking from across their cubicles. These were the words:
Is JIRA down?
Yes, JIRA is down!
Jira is always down. So I asked my coworker in the next cubicle if JIRA was working for him. He answered Yes. Then I asked him to look for my ticket number. He opened it. Right next to my name on this ticket, it had the word (Inactive) and my name was grayed out.
That's something the manager could sort out, but it was lunch time. I went down to the cafeteria and ordered a nice black bean burger, a healthy diet is important if your work consists off sitting down all day. I went for my usual after-lunch one mile walk, again this counters sitting down all day.
Of course, when I come back, I take the stairs up to the 11th floor. Very hard, but you know, sitting down all day is not good. The only problem was that I forgot that when I reached the 11th floor, I would have to scan my key card to leave the stairs. That card reader reminded me with the slowest, meanest, and grumpiest beep an 8 bit machine could make. I was stuck on the stairs. I sat there for 10 minutes until a fellow stair taker opened the door for me. I sneaked into the floor like a common thief.
That's when my recruiter called me in panic apologizing again and asking if everything was OK. She told me she had received an email saying I was terminated. I told my manager right away, and she was surprised because she received no such information. She couldn't understand why my JIRA was disabled but the system wouldn't allow her to enable my account. She created a JIRA ticket for the support team to re-enable my account.
Back at my desk, there was a big scary (and threatening) error message on my screen. It asked me to restart my computer immediately. I did not comply. Well, I had a few hundred windows open and multiple programming environments running. I just dismissed the box. I knew that if I restarted that computer, I wouldn't be able to log back in.
Instead, I logged into Confluence to document my work for the rest of the day.
The next day, I took Uber to work, I didn't want to deal with the parking again. Jose couldn't print a temporary badge for me because my name appeared in RED and flagged in the system. My manager had to come down to escort me into the building. The recruiter sent me a message telling me not to go to work. She had just received a message that my badge had been used while I had been terminated. I was already in the building. We got the Director involved.
What the Hell is happening? Am I fired or not.
The director laughed. She was a tall elegant woman with the confidence of a countess. She stretched her arm, unhooked the phone and dialed the number for support with the one same hand. With her might and title, she ordered them to immediately restore everything back to normal and hung up. She assured me that everything will be alright, to get back to work and this would be solved by the end of the day. I was still there in her office and saw her face when she got this email: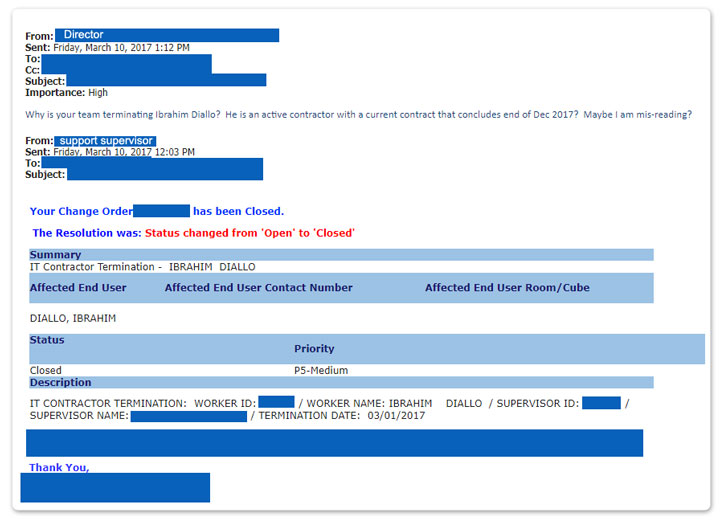 I was successfully terminated. Case closed.
In the meanwhile, there was an emergency on the multimillion dollar tool I was working on. Hundred of thousands of records were missing and the web interface was not responding. I went to my desk only to see that my Windows machine had been automatically restarted (Damn you Microsoft) and my account had been disabled.
Thank God I had my CentOS machine. The regular tools I use for development were no longer accessible. I had to hack my way into the server to restart it, debug it, reactivate all the services, and reprocess the data.
Before I left the building I went to see the director that was still on the phone with support. She gave me the green light to come to work the next day.
The next day, I had been locked out off every single system except my Linux machine. Even the service we used to log our hours to get paid had been deactivated. I spent the first half of the day documenting my work.
After lunch, two people appeared at my desk. One was a familiar long face that seemed to avoid making direct eye contact. It was Jose and his fellow security guard. He cordially informed me that he was to escort me out of the building.
The director was furious. They had received a very threatening email to escort me out of the building and were just doing their job.
"Who the hell is sending those emails!?"
I was fired. There was nothing my manager could do about it. There was nothing the director could do about it. They stood powerless as I packed my stuff and left the building.
Over the next 3 weeks, I was CCed on the emails about my case. I watched it be escalated to bigger and more powerful titles over and over, yet no one could do anything about it. From time to time, they would attach a system email. It was soulless and written in red as it gave orders that dictated my fate. Disable this, disable that, revoke access here, revoke access there, escort out of premises, etc.
The system was out for blood and I was its very first victim.
I had worked there for more than 8 months and my work spoke for itself. I was receiving constant praises, people were fascinated by my work. I was getting along super well with every one. I like to believe that I never did anything wrong to anyone... This was a great reminder of the frailty of job security.
Eventually the problem was solved. My recruiter called me one morning and told me that I can come back to work. I had missed 3 weeks of work by that time, and pay. Once on site, I got an explanation.
Once the order for employee termination is put in, the system takes over. All the necessary orders are sent automatically and each order completion triggers another order. For example, when the order for disabling my key card is sent, there is no way of it to be re-enabled. Once it is disabled, an email is sent to security about recently dismissed employees. Scanning the key card is a red flag. The order to disable my Windows account is also sent. There is also one for my JIRA account. And on and on. There is no way to stop the multi-day long process. I had to be rehired as a new employee. Meaning I had to fill up paperwork, set up direct deposit, wait for Fedex to ship a new key card.
But at the end of the day the question is still, why was I terminated in the first place?
I was on a 3 years contract and had only worked for 8 months. Just before I was hired, this company was acquired by a much larger company and I joined during the transition. My manager at the time was from the previous administration. One morning I came to work to see that his desk had been wiped clean, as if he was disappeared. As a full time employee, he had been laid off. He was to work from home as a contractor for the duration of a transition. I imagine due to the shock and frustration, he decided not to do much work after that. Some of that work included renewing my contract in the new system.
I was very comfortable at the job. I had learned the in-and-out of all the systems I worked on. I had made friends at work. I had created a routine around the job. I became the go-to guy. I was comfortable.
When my contract expired, the machine took over and fired me.
A simple automation mistake(feature) caused everything to collapse. I was escorted out of the building like a thief, I had to explain to people why I am not at work, my coworkers became distant (except my manager who was exceptionally supportive). Despite the great opportunity it was for me to work at such a big company, I decided to take the next opportunity that presented itself.
What I called job security was only an illusion. I couldn't help but imagine what would have happened if I had actually made a mistake in this company. Automation can be an asset to a company, but there needs to be a way for humans to take over if the machine makes a mistake. I missed 3 weeks of pay because no one could stop the machine.
At least a year later, I can sit here and write about it without feeling too embarrassed. So that's the story about the machine that fired me and no human could do anything about it.
---
PS: I am willing to bet the recent issue with YouTube Piracy filter blocking MIT courses and the Blender Foundation are the result of The Machine being the ultimate decider. Even though YouTube's support team clearly knows that these don't violate terms and conditions, the Machine decided otherwise. And they will have to fight it to death to bring the videos back online.
---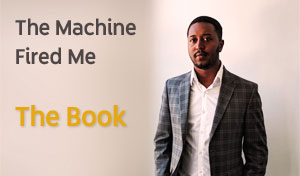 I am writing a book! Join me in my journey.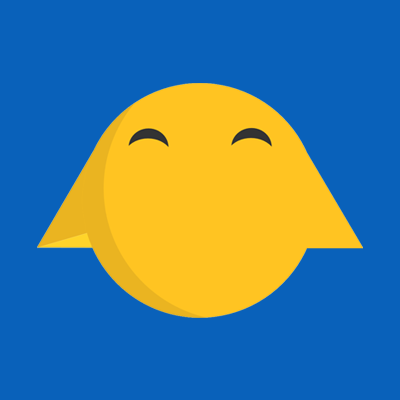 Check out my new Startup Ottomon
Contact the owner of any car with the click of a button.
---